Summer bodies are made in the winter!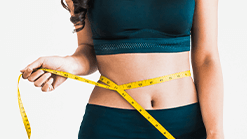 Here at Level Up Med Spa we believe the best summer bodies are made in the winter! It may seem far off to be thinking of beaches and bikinis amidst the drab of winter and snowy days. However, good habits take time to build and real change happens with time and hard work. There are many quick fast results diets and gimmicks out there. While some can work if you're looking to shed pounds in a hurry. The truth is that those extreme plans increase the likelihood that you will revert back to bad habits or back to your old routine quicker.
We believe in the power of a healthy balanced diet and a regular exercise routine. When you incorporate healthy habits into your everyday you build a foundation for a healthy future. On average it takes more than two months for a new routine to become a habit. That's why we recommend starting your healthy routine and working on your summer bodies now!
Part of getting the look you seek may involve a little extra help. It may be just those few extra pounds or a matter of getting your whole 6-pack in that will take your body to the next level. If you have areas of stubborn fat that aren't responding to dietary changes or exercise you might consider non-surgical body aesthetic treatments.
Level Up Med Spa specializes in the most innovative body contouring technologies. When complimenting your healthy diet and exercise routine with body contouring treatments you can take your body to the next level.
EmSculpt® - No Downtime, No Sweat, No Surgery
Emsculpt® is a revolutionary body contouring procedure that uses the power of electrically induced muscle contractions to dissolve fat and build muscle simultaneously. It's the world's first non-invasive and non-surgical treatment proven effective in reducing unwanted fat from the belly, buttocks and other areas of the body.
truSculpt® iD – Treat Abs, Thighs, Chin, Arms and Love Handles.
truSculpt iD is a nonsurgical, body sculpting and body contouring treatment that utilizes monopolar RF technology as a means of heating and destroying fat cells. It can be used anywhere on the body but is commonly used in areas, such as the buttocks, thighs, and abdomen.
Our team believes in the benefits of procedures that can help alleviate the challenges of aging. We are in the business of preserving and restoring the health and youthful appearance of each of our clients. Our office in Andover, MA uses high-quality products along with cutting-edge technologies to offer some of the most effective aesthetic and wellness treatment options on the market.
Get started on your summer body today by calling (978) 409-0126 to schedule your free consult.