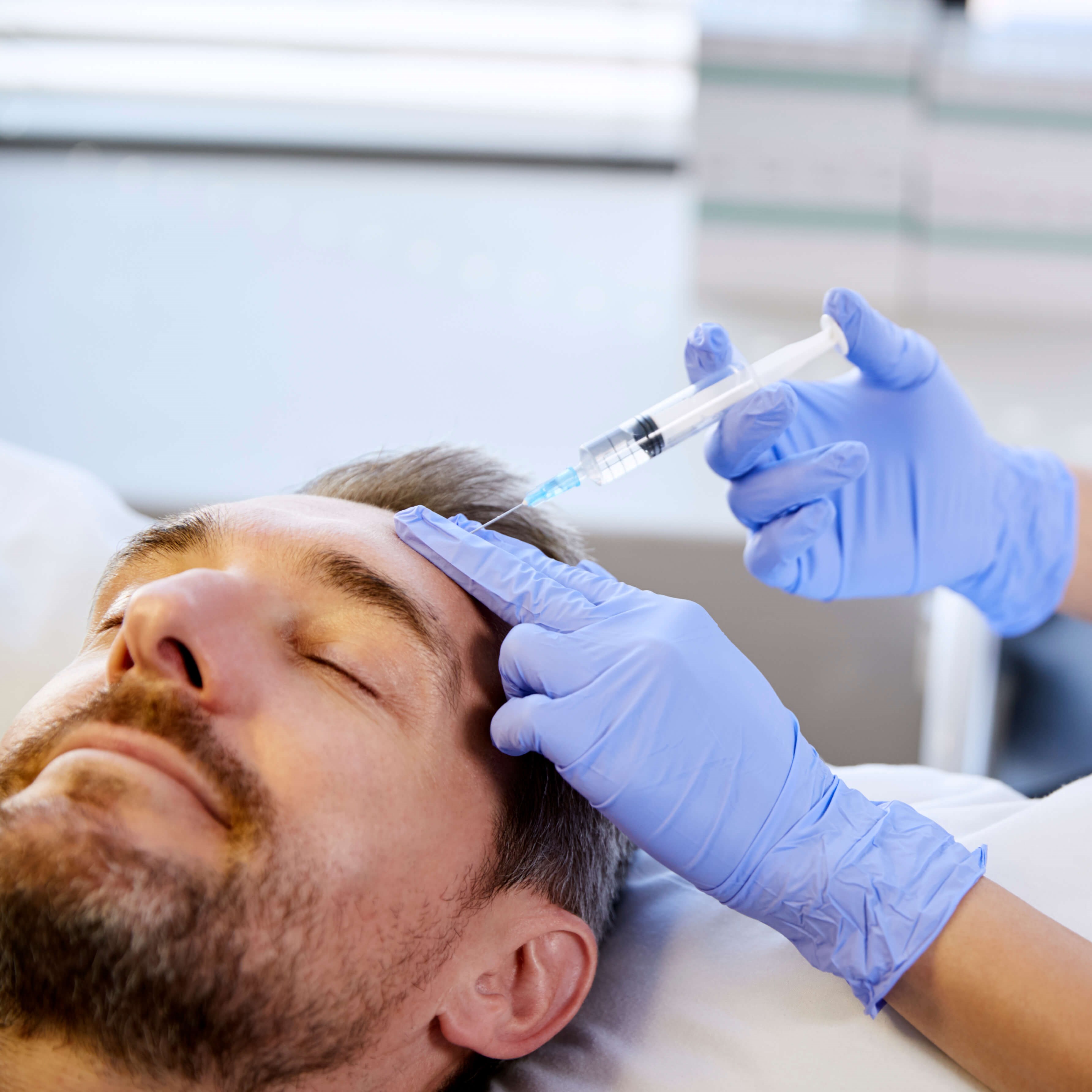 When considering an anti-aging treatment Botox is certainly a easy entry level treatment if you are new to the world of aesthetic skincare. According to the American Society for Aesthetic Plastic Surgery, doctors used five percent more injectables, like Botox, in 2018 on their patients than the year before, and 40 percent more over the past five years. Men between the ages of 35 to 50 make up the largest group seeking Botox. It's not just women looking in the mirror and seeing the effects of aging. Men are getting in on this fast and effective treatment!
Botox's non-invasive procedure safely injects botulinum toxin into the face. This injection relaxes the muscles helping to minimize the appearance of dynamic wrinkles. Botox is safe, FDA approved and offers little to no downtime. Feeling good about how you look can help boost confidence and that applies to men as well. Now more than ever men are more open to improving their appearance as Botox becomes more popular and less taboo among men. Men can feel competition in the workplace or among friends just as women do. Botox can help lessen the appearance of wrinkles, helping you look years younger.
No Commitment Needed!
One of the biggest benefits for men giving Botox a try is it's no commitment needed entry. For men who are newbies to aesthetic treatments the idea of getting a "salon treatment" can feel intimidating or out of character for most men. That's why Botox has great benefits. You can experience the results of Botox in just one treatment. If it's not for you, there is no commitment. The results of Botox typically wear off within a few months following injection.
Fast!
For men not wanting to be caught heading into a med spa, with Botox treatments you can be in and out of our spa in less than 30 minutes! Most Botox treatments can be as fast as 15 minutes. Meaning if you're hesitant about stepping foot into a med spa, you can rest assured your visit for a Botox treatment will be fast and easy!
Worth It!
Most patients see the results of Botox over the first three to four days after treatment, these results improve over the next couple of weeks. Patients of RealSelf.com give Botox a 96% "worth it" rating! Men typically receive Botox treatments between their eyes, on their forehead and around the eyes. Botox will help you achieve a younger look by essentially freezing the muscles that create those frown lines or angry scowls. Look and feel younger with a completely safe, painless and effective treatment!
Start your Botox treatment at Level Up Med Spa in Andover! We have many male clients benefiting from the effective results of Botox. Call (978) 409-0126 to schedule your consultation by phone or video call today!