Exciting Announcement - Level Up Partners with Victoria Arlen!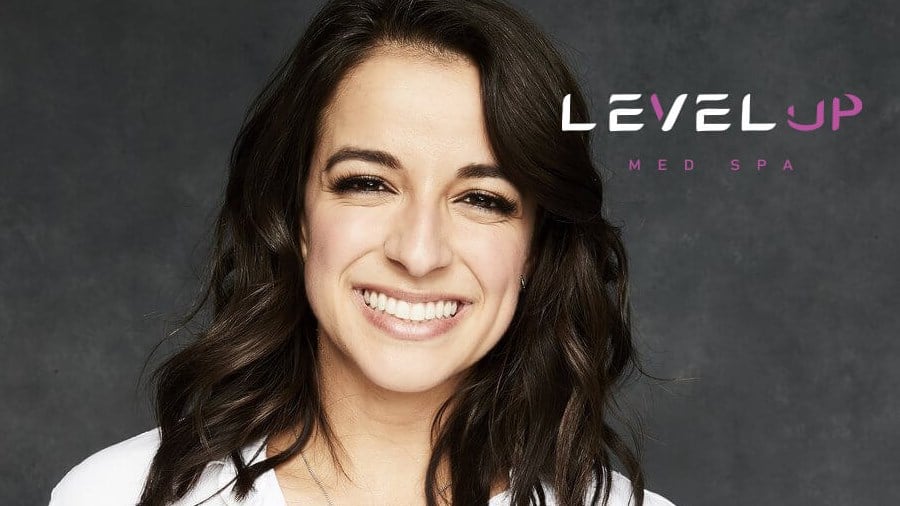 Level Up Med Spa is partnering with Victoria Arlen - Gold Medalist, ESPN on-air personality, American Ninja Warrior jr Host, world renowned speaker, actor, author and model. 
Victoria has defied the odds despite insurmountable challenges. Her life drastically changed at the tender age of eleven when she developed two rare conditions known as Transverse Myelitis and Acute Disseminated Encephalomyelitis.
In an incredibly rare scenario Victoria quickly lost the ability to speak, eat, walk and move. She slipped into a vegetative state in which doctors had written her off as a lost cause. Victoria spent nearly four years "locked" inside her own body completely aware of what was going on just unable to move or communicate. Doctors believed there was little hope of survival and recovery was unlikely. 
Victoria, however was not ready to give up. In 2010 after almost four years she began the nearly impossible fight back to life. Learning how to speak, eat and move all over again. 
Victoria went on to exceedingly defy the odds and not only recovered but has since become an accomplished Motivational Speaker, Television Host and Gold Medal winning Swimmer. 
Level Up Med Spa will be partnering with Victoria to join her in conquering the unthinkable! Using the revolutionary EmSculpt® technology, Level Up Med Spa in Andover, MA will assist Victoria in continuing to build strength and muscle in her core and lower body, something doctors believed once impossible for her. 
EmSculpt®'s non-invasive electromagnetic energy is designed to not only sculpt beautiful bodies, but induces powerful muscle contractions to remodel the inner structure of the body - building and strengthening the muscles. With the help of EmSculpt® technology at Level Up Med Spa Victoria will be able to regain functionality to muscles that were previously weakened by her conditions. 
After overcoming insurmountable odds Victoria has lived each and every day to her motto "Face it, Embrace it, Defy it, Conquer it". We at Level Up Med Spa look forward to partnering with Victoria to conquer and defy more odds!